Stop worrying about being the best
My six-month retrospective on switching careers away from optometry and how this could help with your career situation
I needed to get out of the house to write this newsletter, so this is brought to you from my local cafe.
---
I promised you a six-month retrospective of my switch from optometrist to programming. Even if this isn't your exact trajectory, I want what I have learned during this transition, so I'm crossing my fingers that this will be useful to you. But if it isn't, or there is something you would like me to change, you can always let me know.
Okay, I just need to provide a bit of history.
The journey of programming started almost 3 and a half years ago from today. At the time, I was an optometrist and though the career offered a lot of comforts, I was looking for a change.
Luckily, I discovered programming and enjoyed it. Why couldn't I do this for a living I thought?
The rest is history. I don't want to run through the exact steps, but I want to run through my thought processes before I got my first job as a programmer.
In the beginning, it was all about survival. I couldn't go back to university; the expenses were too high. I wanted to see if I could just build personal projects and hope for some job to come up.
That was the notion at the time: you didn't need a degree to get a job, just passion, personal projects and a little bit of luck.
Months passed. Those turned into years. Shoot. I'm still doing optometry and I'm not a programmer.
It's fine. I could do optometry and just program as a hobby.
As time passed, my dislike for optometry only grew.
This turned into desperation, desperation mixed in with the need to be the "best" or to "become noticed".
That is where the idea of creating content and becoming an entrepreneur came to fruition. Programming can be a fun hobby on the side.
If I couldn't get a job as a programmer, maybe I could create my own job.
So I began creating content, but never got any better (not by the standards of what is needed to really succeed).
Alright, maybe content-creation-for-income wasn't for me but I like programming. Couldn't I make money from programming?
You would build some valuable tool that is bought by a big company for big money. That's actually quite hard, plus I wanted to make something that is my "own".
What about building a software-as-a-service product? I was shown the world of indie hacking.
Perfect. It checked all the boxes — money, freedom, and recognition.
One inspiration came from Pieter Levels. If you don't know who Levels is, all you need to know is that he makes a lot of money. How? Well, it's not easy that's for sure, but he's a good example of business execution.
A lot of problems with people who venture into business is that they have ideas, but ideas are worthless without execution.
Now, that sounds simple, to simply execute, but it's not that easy if you are me and you like programming.
There is this idea of "shipping". There is one skill to program. But there is also the skill to program that is good enough and to get it out there, iterate and repeat.
Some people never get to the stage of shipping because they obsess over the technology stack, going down many rabbit holes, before even getting a minimally viable product for users to actually use.
I even got his book, Make. And there was one line that turned me off just a little. I'm paraphrasing, but Levels makes the argument that if you are interested in programming and the "tools", discovering new technology, in other words, being a "nerd", then this can work against you. You need to see through what is wasting time to be able to deliver what is valuable.
My heart sank when I read this. After all, money and status are important but I enjoy programming. It's a craft that I want to enjoy and improve in. I don't want it to just be a tool to make money.
Feeling lost, that is where luck struck. I got my first job as a programmer. I was lucky enough to have the connection, to be referred and for someone to take a chance on me.
And six months in, I have found something I enjoyed. I have a great boss and mentor, someone who I look up to.
My days aren't filled with working a day job I dislike and then using the rest to program. At work, I get to program but also deep dive into what I find interesting, despite the fact it doesn't lead to a direct business return on investment.
We have a day a week to focus on education, which would be unthinkable in the world of indie hacking because time would be spent learning business or shipping code. At work, I am improving my craft as a programmer.
Outside of work (yes, you are granted a life outside of work if you are working a job), I can fulfil my values of trying new hobbies and focusing on improving my physical, mental, spiritual and social well-being.
What about the need to be the best or become noticed?
I still struggle with this. I need some external validation. Sometimes I think I need to make a lot of money or become the best programmer in the world (sounds funny when I write it down).
But I'm slowly finding inner peace. After all, the best programmer can't solve all the problems in the world, so I can just focus on being the best I can be. That means taking breaks when needed, continually learning, being balanced, following my curiosity and helping others.
Don't get me wrong, I do want to build something one day. That could be with someone or for myself, but that time will come. Right now, I am focusing on enjoying the present moment.
Thanks for reading this. If you think this is valuable, please share it with someone. Other than that, I hope this helps you out. Please join in the conversation if you have something you want to add. I hope you have a good week ahead.
Stay focused and talk soon,
Shivan
---
My Favourite Things
I've been slowly improving my typing speed and accuracy with this new keyboard that I got about a month ago. Hopefully, my future self will thank me for it. This application — keybr — has helped me greatly.
2. Coffee accessories
Here are some accessories that improve the coffee-making experience. Their purpose is explained in the captions. They aren't necessary for making coffee, but I want to stress how it makes the process a lot better.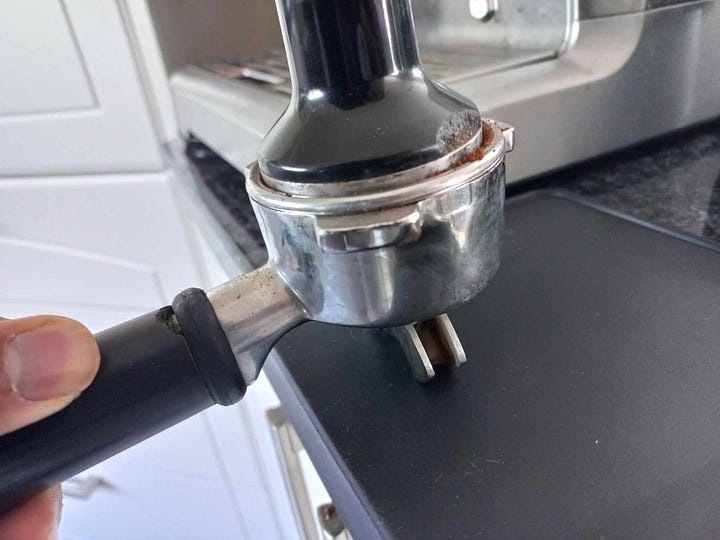 Directed by Mimi Leder, this movie focuses Ruth Bader Ginsburg's story from her time studying at Harvard Law to fighting against gender discrimination written into the laws of the United States. This movie is eye-opening into both the difficulties Ginsburg had to face during her career as a woman, as well as how outdated laws written with assumptions and the lack of putting one in the shoes of others can lead to discrimination.
Just as a 'PS': her first case against gender discrimination wasn't towards women; it was actually gender discrimination towards a man.
The movie doesn't cover this (or at least it's only mentioned until the very end), but Ginsburg served as an Associate Justice of the Supreme Court from 1993 until her death on 18 September 2020, at the age of 87.
---
Videos
How I meditate
Here is a short video on how I meditate. It's a practice I do nearly every morning and it has greatly improved my ability to observe my thoughts — which helps me with introspection and catch negative/positives in action. I'm enjoying that self-awareness, which is something I want to pass on to you.
---
Quote of the Week
"Most important, teams working in this system begin to measure their productivity according to validated learning, not in terms of the production of new features." (Eric Ries, The Lean Startup)